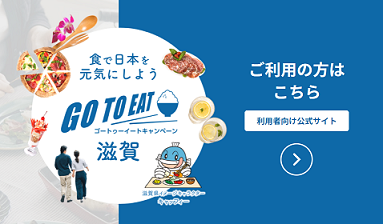 Below is information regarding the "Go To Eat Campaign" that "issues discount meal coupons" or "awards points through online restaurant reservation".
1. Issuance of discount meal coupons in Shiga
Customers may purchase meal coupons worth 12,500 yen for 10,000 yen (up to 20,000 yen/person for every purchase)
Customers may start using meal coupons at campaign participating restaurants taking preventative measures against the spread of infection starting Tuesday, October 20.
Up to 7,000,000,000 yen (560,000 sets) worth of coupons are scheduled to be sold in Shiga prefecture.
※12,500 yen worth of meal coupons (1000 yen x 10 coupons, 500 yen x 5 coupons)
Information for customers
How to purchase / use coupons
2 types of coupons are available. "electronic coupons" that can be purchased through LINE, and "paper coupons" that can be purchased at designated service counters in the region.
※Paper coupons can be purchased at Heiwado, AL Plaza, Friend Mart stores in Shiga prefecture (excluding some stores)
Period of coupon sales / coupon use
Coupon sales : Tuesday, October 20, 2020 ~ Sunday, January 31, 2021
Coupon use : Tuesday, October 20, 2020 ~ Wednesday, March 31, 2021
Where coupons can be used
Restaurants in Shiga prefecture participating in the campaign
Contact number
Go To Eat Shiga Call Center : 0570-052-120(call center for customers)
Open: 10am ~ 7pm excluding weekends and holidays
2. Online restaurant reservation
Points are awarded to the consumer for use at the next visit to registered restaurants during the campaign when reservations and restaurant visits are made through one of the thirteen online restaurant reservation sites.
500 yen worth of points awarded during lunch hours, 1000 yen worth of points awarded during evening hours (3pm~).
The maximum amount of points that can be awarded is for 10 people/reservation (max. of 10,000 yen worth of points)
Points awarded until the end of January, 2021. Points may be used until end of March.
Contact number regarding this campaign
1.Call center regarding issuance of Go To Eat discount meal coupons
Go To Eat Shiga Call Center : 0570-052-120(Japanese only)
 Open : 10am ~ 7pm excluding weekends and holidays
2.Call Center regarding online reservations
Call Center : 0570-029-200(Japanese only)
 Open : 10am ~ 5pm including weekends and holidays